Since its inception in 2005, YouTube has provided free videos on the World Wide Web, allowing people of all types and all over the world the right to "Broadcast Yourself." The company's quick acceptance and growth was validated when, in December of 2006, it was purchased by Google, Inc. for 1.6 Billion (wiki).

You would think that finding the video you need might be a tad bit difficult, since YouTube has such a huge database of information. Lucky for them, they're powered by the World's best search engine - Google. Now, YouTube has endless information AND a quick way to find it. What could go wrong?

How about a search system which seems to be based on previous search entries - a system which, upon entering a few words, will suggest for you what someone else has already entered. It assumes you may share the same interests. But what happens when suggestions go wrong?

Currently, our team is working on site dealing with the horse industry. I needed to find a couple of example horse-related videos on YouTube for the site, in order to test out formatting issues. As soon as I entered the word "horse" in the search box, the following popped up: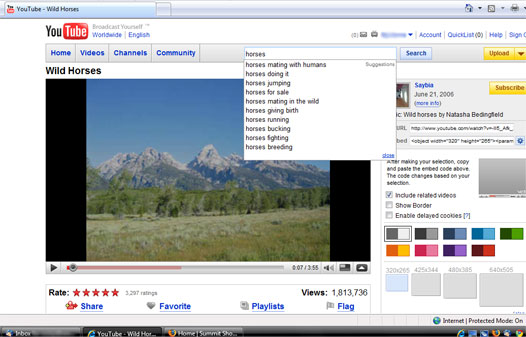 As shown in the screencap, YouTube's first suggestion upon entering the word "horse" is "horses mating with humans." I was absolutely appalled. The first thought in my mind was, wow, I hope my daughter never looks for horses on YouTube. There's no way I would ever want her to find videos related to horses having intercourse with humans!

What truly upsets me about this is the fact that YouTube is no "mom and pop" website - it's powered by one of the most influencial and powerful companies on the web today - Google. If Google cannot afford to incorporate some checks and balances in the system, then who will? It is the responsibility of this company to ensure that the public is viewing reliable, accurate, appropriate and meaningful content. They should have a team employed to QA the search system and the videos uploaded daily. I'm sure they have this team working now as we speak, but they're not doing a very good job, and for this I am shocked.

Shame on you, Google, for allowing such a careless oversight.